WCRIS supports the unique missions of member schools through advocacy, education and partnerships,
to ensure an extraordinary education and equitable opportunity for each child.
Spotlight
Join Us at WCRIS' 2018 Leadership Conference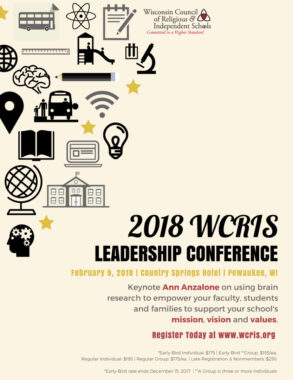 How can brain research lead us to be better educators? How can we position ourselves and our teams to embrace change?

Teacher Consultant Ann Anzalone and Ted Neitzke, CEO of CESA 6, will offer their expert advice to school leaders at WCRIS' 2018 Leadership Conference, from 7:30 a.m. to 2:30 p.m., Feb. 9 at the Country Springs Hotel, 2810 Golf Rd., Pewaukee.

Anzalone and Neitzke are just two of the speakers who will present ideas about leadership and strong schools at this year's conference. Other topics include: special education in private schools, trauma-informed care, navigating communication throughout a school and emergency preparedness. The conference will wrap up with a panel of Choice school leaders whose School Report Cards exceeded state expectations and who will share their strategies that led them to success.

Register Here
January 02, 2018
Scholarships Available to Wisconsin Teachers
The George Washington Teacher Institute will host six summer residential programs that feature access to George Washington scholars, the Mount Vernon estate, and primary and secondary sources. The featured programs are: Martha Washington and the Women of the 18thCentury (June 12 – 16); Slavery in George Washington's World (June 19 – 23); The Great Experiment: George Washington [...]
Read More ›
December 28, 2017
Have you ever wondered what it would be like to have a direct influence on national education policy affecting school communities across America? Do you have a keen interest in working with U.S. Government officials to better serve our country's students and teachers? If so, apply for the U.S. Department of Education School Ambassador Fellowship [...]
Read More ›
December 01, 2017
Your Help Needed: Take Action Now
Your help in halting the two provision changes noted below is essential. You can easily contribute your voice by using the Council for American Private Education's (CAPE's) advocacy action alert here. You can easily edit the CAPE message to include details about Wisconsin and your family's experience. The process only takes a few minutes. Two [...]
Read More ›
From Our Sponsors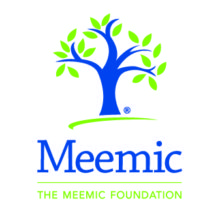 Meemic Grants: 5 Questions, up to $500
The Meemic Foundation awards hundreds of grants each year to help schools and teachers pay for innovative programs, events and projects. The Foundation supports field trips; books for classrooms or school libraries; behavior modification programs; materials for science labs, music departments or art projects; technology upgrades; basically anything that enhances the student's educational experience. To apply online for a traditional grant (five questions) for funding up to $500, visit MeemicFoundation.org/traditional.

An additional grant opportunity is also available, the Meemic Masterpieces K-12 Student Art Contest and Grant Opportunity. Up to 50 winning artworks will earn the Foundation Club Member's school a $300 art supplies grant, plus each winning artist will receive a Chromebook. All students will receive a certificate of appreciation. For additional information or to apply, visitMeemicFoundation.org/Masterpieces.

You may apply for both grants.

Application deadline for both grants is March 30, 2018.

Learn More ›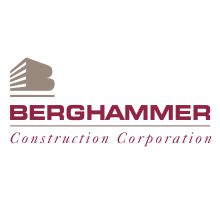 Considering an Educational Building Project?
Meeting the evolving educational needs of 21st-century students requires a physical space as stimulating as the material itself.

Berghammer Construction sees every educational building project as an opportunity to strengthen communities by providing dynamic, efficient learning areas that inspire tomorrow's leaders. Those spaces can be found in religious and independent pre-schools and K-12 throughout southeastern Wisconsin. What they all have in common is Berghammer's commitment to supporting educators' vision through innovation and strong fiscal stewardship.

Central to this approach is Berghammer's design-build philosophy. It starts when the project is little more than a napkin sketch. Berghammer asks critical questions to help shape a design in the context of the available budget. By coming at the project from this direction, Berghammer lends efficiency to the entire process. Surprises are eliminated and budgets and timelines are met.

In this space, we're going to share relevant information on planning for growth as it relates to the changing policy and political landscape, explain what preconstruction services and value-alignment are, and share some ideas on "teaching-learning spaces."

Contact us if you'd like to learn how Berghammer Construction's design-build process may be the best approach for your educational building project.

Learn More ›
Learn About WCRIS
We support policies that align with our core beliefs:
All children have the right to quality, affordable education.
Economic status should not determine whether a child receives a quality education.
Our educational system must be designed to facilitate the growth of quality educational institutions, both public and private.
Learn More About WCRIS ›